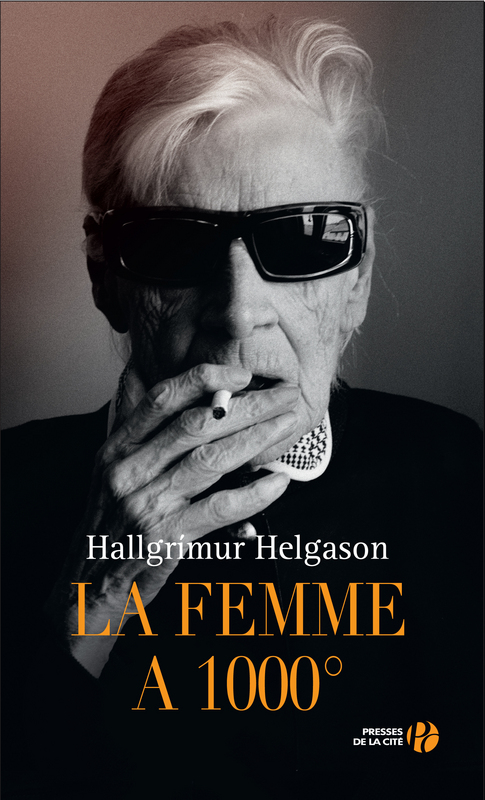 1
I live here alone in a garage, together with a laptop computer and an old hand grenade. It's pretty cosy. My bed is a hospital bed and I don't need any other furniture, except for the toilet, which is a real drag to use. It's such a long way to travel, all along the bed and then the same distance again over to the corner. I call it my Via Dolorosa and I have to totter across it three times a day, like any other rheumatic ghost. My dream is to be hooked up to a catheter and bedpan, but my application got stuck in the system. There's constipation everywhere…
A historical novel published in 2011, Woman at 1000 Degrees (in most countries titled The Woman at 1000°) is based on the real life of Brynhildur Georgía Björnsson, an Icelandic woman whom Helgason accidentally met over the telephone in 2006, when he was aiding his ex-wife during an election campaign, getting people to vote for the Social Democratic Party. Ms. Björnsson died in 2007 but had published her biography in 1983. Her father had also published his biography in 1988. He was one of a handful of Icelanders who fought with the Nazis in World War Two. Brynhildur's grandfather was the first president of Iceland, Mr. Sveinn Björnsson.
The novel's main character is Herra Björnsson. She lives alone in a garage, with her laptop and an old German hand grenade from WW2. She knows she is about to die, but tells us the story of her life, a difficult life that saw her in Denmark before the war, orphaned in Germany during WW2, fleeing to Argentina after the war and from then on searching haopiness with many men in many countries. Herra's fate has been compared to the fate of Iceland, that was a Danish colony for centuries, then became independent in 1944, but was always protected by the Americans until 2006, when Bush jr. needed all his soldiers in Iraq. Like Herra Iceland never knows where to belong or whom to be with.
In 2014 a theatre version of the play was staged at the National Theatre in Iceland. It ran for five months. For the adaptation Hallgrimur Helgason received the Gríman prize in 2015 (The Icelandic Tonys) for the best play of the year.
In 2016 a one woman monolougue made by the Danish actress Solbjørg Højfeldt ran at theatres in Copenhagen, Aarhus and Aalborg.
Woman at 1000 Degrees was nominated for the Nordic Council Literature Prize in 2013.
The book was nomintaed to the Icelandic Literary Prize in 2011.
The French translator, Jean-Christophe Salaün, was awarded the Prix de traduction Pierre-François Caillé 2014, for "the best translated novel of the year".
The Norwegian translator, Silje Beite Løken, got nominated to the Bastian Prize 2016 for her translation.
Has been published in Norwegian, Danish, German, Dutch, French, Polish, Russian, Lithuanian, Albanian, Italian, Spanish and Catalan.
"Like John Irving on speed."
— Volker Hühn, Lift, Stuttgart city magazine
"Clearly the best novel of the year 2013."
— todoliteratura.es
"600 pages filled with humor, feelings and a deep understanding of the tragic fate of women."
— Julie Malaure, Le Point