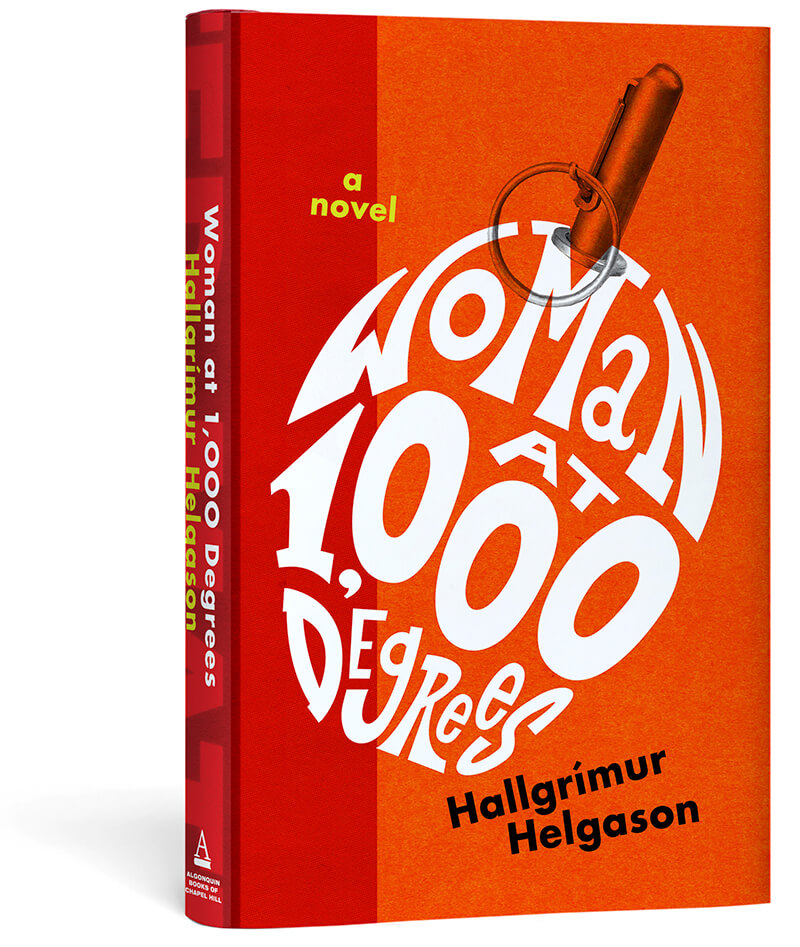 "What a novel! Helgason's Woman at 1000 Degrees is a gutsy, brilliant book: I could not tear myself away from it. Octogenarian Herra Bjornsson's dying recollections, as she lies nursing a hand grenade between her legs in an Icelandic garage, hurtle the reader headfirst into an epic narrative of war, loss, desire and survival, across years and continents. Both funny and deeply moving, I finished it utterly dazzled, my ears ringing."
– Hannah Kent, author of Burial Rites
"A deathbed recollection aglow with vitality, Woman at 1,000 Degrees leads us though the many tumultuous lives of Herra Björnsson, barrelling through historic darkness at a seemingly impossible pitch, one that offers moments of humor amid the sharpest of sorrows and alienation. This novel is a shock, a laugh, an evocation of grief, and a tribute to survival and imagination; Helgason's vivid talents give voice to a woman whose last words are so frightfully alive that even as they answer to both present and past, one can't imagine them bearing echoes. Because echoes are too pale for this book; what appears within can only reverberate as a series of unforgettable shouts."
— Affinity Konar, author of Mischling
"Herra Björnsson may be dying at an advanced age in a garage but she has all her wits and a lifetime of grievances firmly in focus. Her fierce and sardonic deathbed confession carefully unfolds a harrowing tale of family upheaval, betrayal, war, and survival at dehumanizing cost. Hallgrimur Helgason's audacious new novel is gripping, darkly comic, and utterly original."
— Valerie Martin
author of The Ghost of the Mary Celeste
"I live here alone in a garage, together with a laptop computer and a hand grenade. It's pretty cozy."
And . . . she's off. Eighty-year-old Herra Bjornsson, one of the most original narrators in literary history, takes readers along with her on a dazzling ride of a novel that spans the events and locales of the twentieth century. As she lies alone in that garage in the heart of Reykjavik, waiting to die, Herra reflects–in a voice by turns darkly funny, bawdy, poignant, and always, always smart–on the mishaps, tragedies, and turns of luck that took her from Iceland to Nazi Germany, from the United States to Argentina and back to a post-crash, high-tech, modern Iceland.
Born to a prominent political family, Herra's childhood begins in the idyllic islands of western Iceland. But when her father makes the foolish decision to cast his lot with a Hitler on the rise, she soon finds herself abandoned and alone in war-torn Europe, relying on only her wits and occasional good fortune to survive.
For Herra is, ultimately, a fierce survivor, a modern woman ahead of her time who is utterly without self-pity despite the horrors she has endured. With death approaching, she remembers the husbands and children she has loved and lost, and tries, for the first time, to control her own fate by defying her family's wishes and setting a date for her cremation–at a toasty temperature of 1,000 degrees. Each chapter of Herra's story is a piece of a haunting puzzle that comes together beautifully in the book's final pages.
Originally published in Icelandic and based on a real person whom author Hallgrímur Helgason encountered by chance, Woman at 1,000 Degrees was a bestseller in Germany, France, and Denmark, and has been compared to "John Irving on speed." But it is deeply moving as well, the story of a woman swept up by the forces of history. With echoes of All the Light We Cannot See and The 100-Year-Old Man Who Climbed Out the Window and Disappeared, as well as European tours de force such as The Tin Drum, Woman at 1,000 Degrees is, ultimately, original, introducing a fresh new voice to American audiences.
Translated from Icelandic by Brian FitzGibbon.
Pre-order the book
You can pre-order the book at Amazon and at Powell's. The book will be out in January 2018.
Reviews
"Like John Irving on speed."
— Volker Hühn, Lift Magazine, Stuttgart Germany
"Impressive brick of a book."
— Le Monde, France
"An Icelandic bomb that makes both character and reader explode."
— Le Figaro, France
"Irresistible."
— Paris Match, France
"600 pages filled with humor, feelings and a deep understanding for the tragic fate of women."
— Le Point, France
"The best novel of the Rentrée Littéraire 2013."
—  lirelirelire.com, France
"A bomb raid on masculinity."
—  El Periodico, Barcelona Spain
"Ironic, sharp, clever and courageous."
— Leer magazine, Spain
"Why is the much troubled Spanish book market publishing a 600 pages long Icelandic novel? Beacause it's great!"
— La Tercera, Chile
"Clearly the best novel of the year 2013."
— todoliteratura.es, Spain
"The book starts in a great way, which is good. But then it becaomes even better, which is bad, because after that you can not stop reading."
— Maria Czubaszek, TV star, Poland
"This book is not to be "liked". It rocks!"
— Andrea Ritter, Stern Magazine, Germany
"If you want to get to know the modern Icelandic society, then take a ride with the crazy narrator of this novel."
— Tilman Spreckelsen, Frankfurter Allgemeine Zeitung, Germany
"You can not put this book down."
— Johan Dehoust, SPIEGEL Magazine, Germany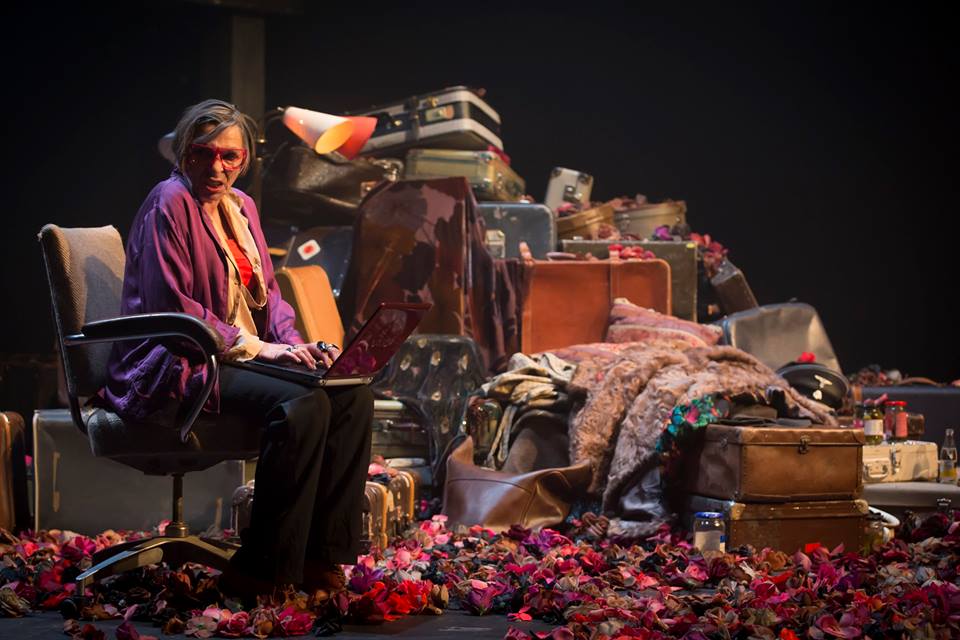 Stage Versions and Stuff
In 2014 a theatre version of the play was staged at the National Theatre in Iceland. It ran for five months. For the adaptation Hallgrimur Helgason received the Gríman prize in 2015 (The Icelandic Tonys) for the best play of the year.
In 2016 a one woman monolougue made by the Danish actress Solbjørg Højfeldt ran at theatres in Copenhagen, Aarhus and Aalborg.
Woman at 1000 Degrees was nominated for the Nordic Council Literature Prize in 2013.
The book was nomintaed to the Icelandic Literary Prize in 2011.
The French translator, Jean-Christophe Salaün, was awarded the Prix de traduction Pierre-François Caillé 2014, for "the best translated novel of the year".
The Norwegian translator, Silje Beite Løken, got nominated to the Bastian Prize 2016 for her translation.
Has been published in Norwegian, Danish, German, Dutch, French, Polish, Russian, Lithuanian, Albanian, Italian, Spanish and Catalan.
Pre-order the book
You can pre-order the book at Amazon and at Powell's. The book will be out in January 2018.